About Xen-Tan
XEN-TAN began when creator Dera Enochson decided she'd had enough of self-tans that looked orange. Working with chemists and testing on friends and family, she spent two years developing new formulas. XEN-TAN products were created to give a more natural color, while maintaining delicious scents, even when your tan is developing.
TRANSFORM LUXE
$30.00
Our popular Transform formula enhanced with added self-tanning power and a new light vanilla scent. Use daily for a dark tan or every other day to maintain a medium self-tan. Smells so wonderful you will never know you are wearing a self-tan lotion. Green Tea, Shea Butter, Gingko Biloba and our time-release ingredient. Paraben-free. For men and women, face and body. Large 8 oz. tube.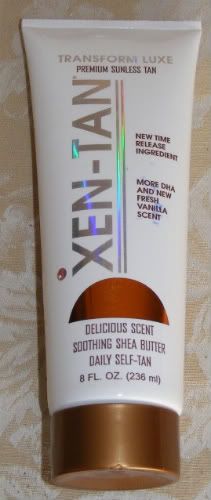 This product seriously smells so good!
It DOES NOT leave that nasty self-tanning scent (that most self-tanners do).
The color is like a true tan.
The girls at work said, "Wow, Whitney, you're getting some sun!"
Little did they know, I haven't even been laying out- I owe it to this product.